Jan

29
Tags
Related Posts
Share This
IMSA Rolex 24 | Part 1
IMSA Rolex 24 | Part 1
The Dawn of a New Era in Racing
Article by: Leo Diaz
Photography by: Nelson Querelta
For those of you who have been following us since our inception; you know that we are motor-heads thick and thin. We love everything about cars from the OEM engineering, custom built show cars, street built daily drivers to the pure race cars. So we know you will find it as no surprise that we have been covering the Rolex 24 event for the last 4 years. In that time we have seen teams come and go, we have seen champions fight for their titles and newcomers make a name for themselves. However, our favorite part of this event is the energy that engulfs the entire compound from the grandstands to the pits to the garages and to the infield. We were very anxious to attend this year and see how the merger between Le Mans and Grand-Am would affect the energy at the track. This year was the inaugural event of the merged series now known as IMSA; the International Motor Sports Association.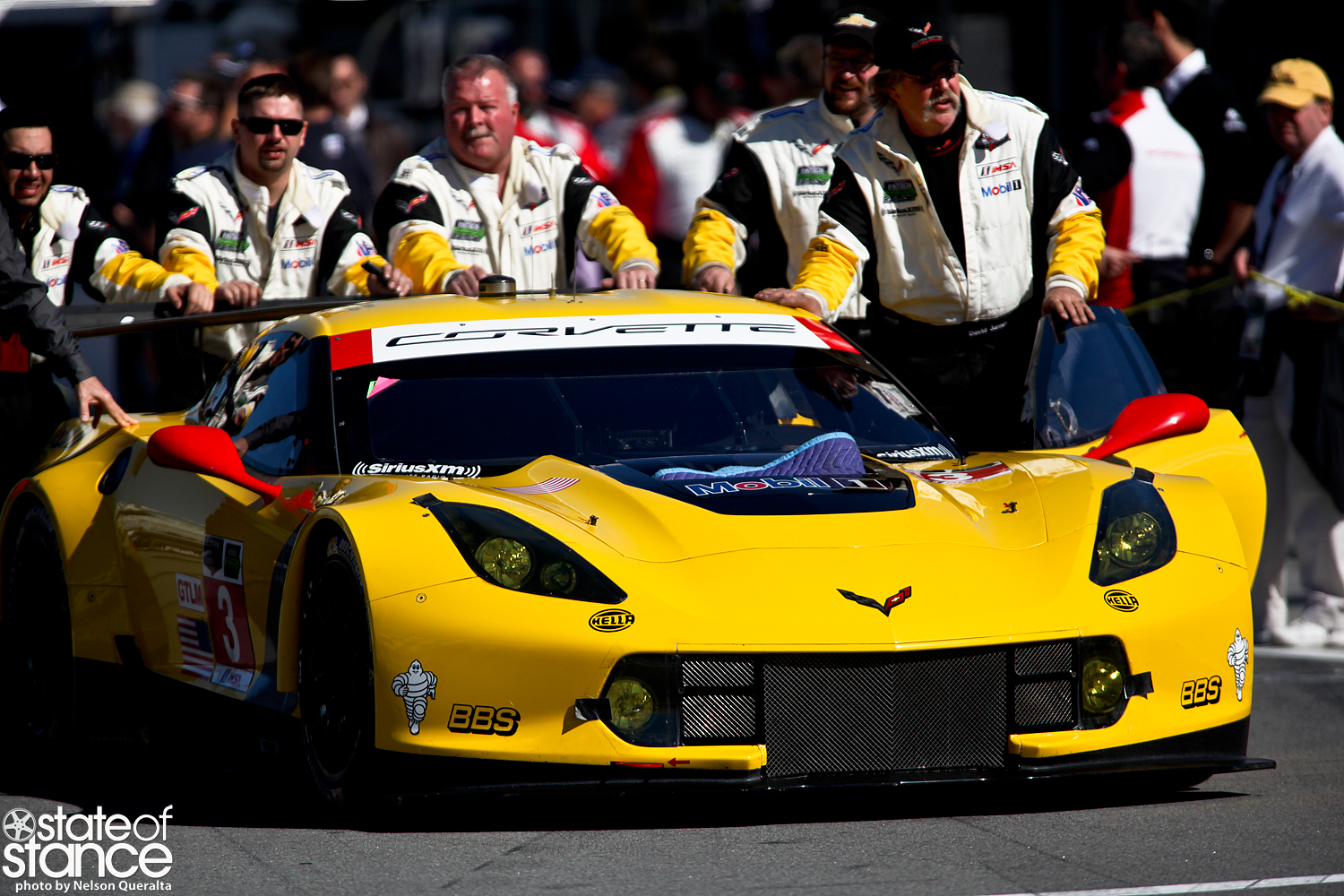 Just a quick history lesson; IMSA is based in Daytona, FL. It was started by John Bishiop, his wife Peggy, and Bill France. They all brought the unification of SCCA and NASCAR into one sanction of racing. Starting with the Rolex 24, IMSA will be the sanctioning body of the Tudor United SportsCar Championship. The Tudor Championship is the result of the merger between Grand-Am Road Racing and American Le Mans.
After setting up our camp site and talking, our first impression of the "new" organization, we here at State of Stance were very impressed. Staff was upped from previous events, details of the various classes running were marked clearly around the track, LED position panels were placed on all the race cars in color coded lights to indicate the race position of each car. No more Abbot and Costello guessing who's on first. Each car's position was easily visible in bright color coded LEDs. There were also some rule changes for the series; if you want to know more about those changes you can always visit http://www.imsaracing.net/ to get more information on each of the race categories.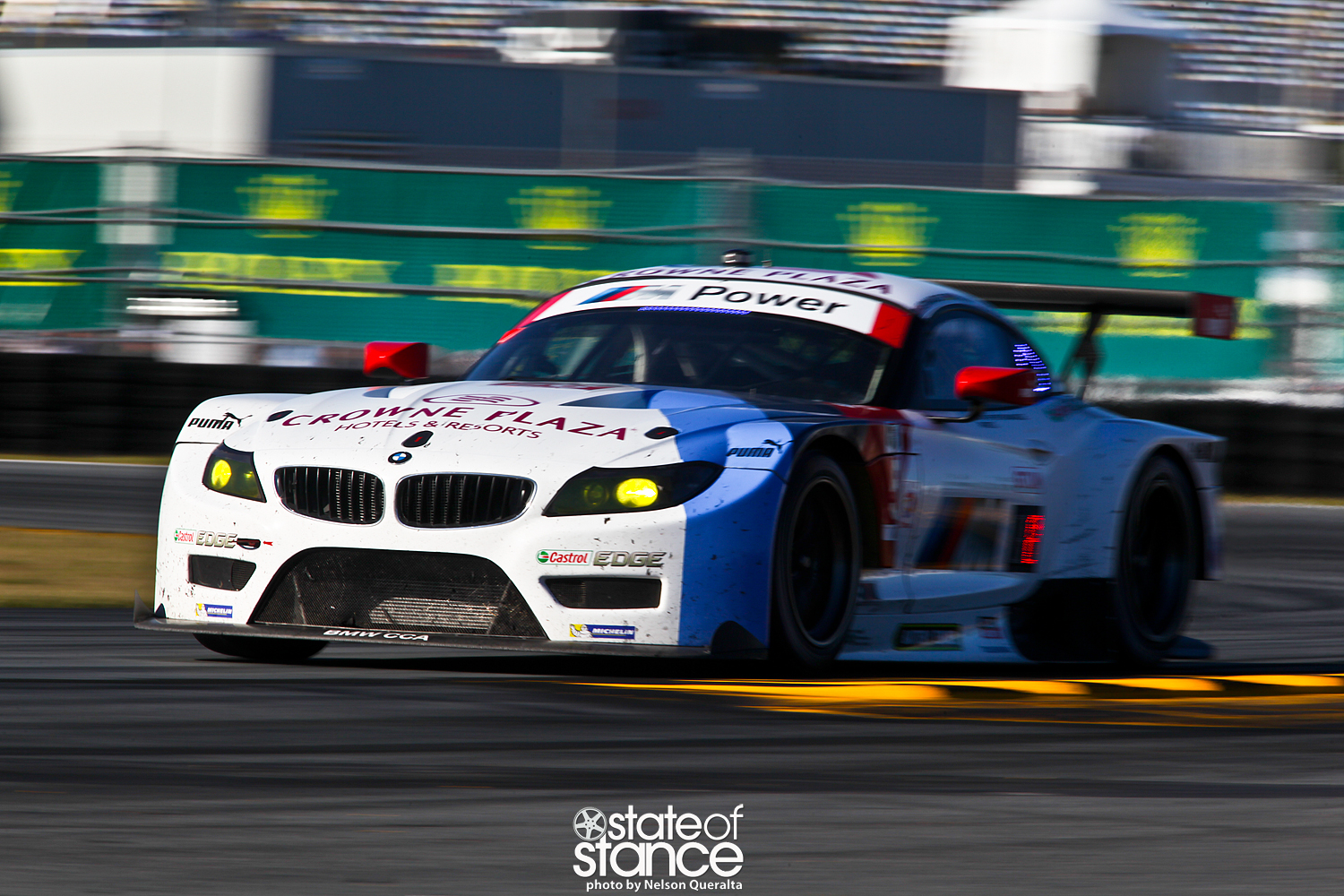 Looking back at the weekend, it was filled with fierce excitement that was evident on the track. The drivers pushed limits at an intensity that kept our eyes glued, an intensity that caused over 12 yellow flag conditions averaging 20 minutes each and one of the worst wrecks we have seen at this event since we started covering. As stated by Jeff Olson of USA Today(2014) Memo Gidley suffered a broken back and injuries to his left arm and left leg that required surgery; Gidley underwent surgical procedures on his left arm and left leg at Halifax Health Medical Center and continues to be evaluated. Matteo Malucelli, the other driver involved, was held overnight for evaluation and is resting comfortably. Both were awake and communicating after being admitted Saturday night after the crash occurred in the sports car endurance race, according to David Hart, IMSA director of communications.
Here are the first set of amazing pictures taken by our very own Nelson Queralta. Continue to come back to catch the rest of our multipart coverage of this inaugural championship series.