Jun

23
Tags
Related Posts
Share This
24 Hours of Formula Drift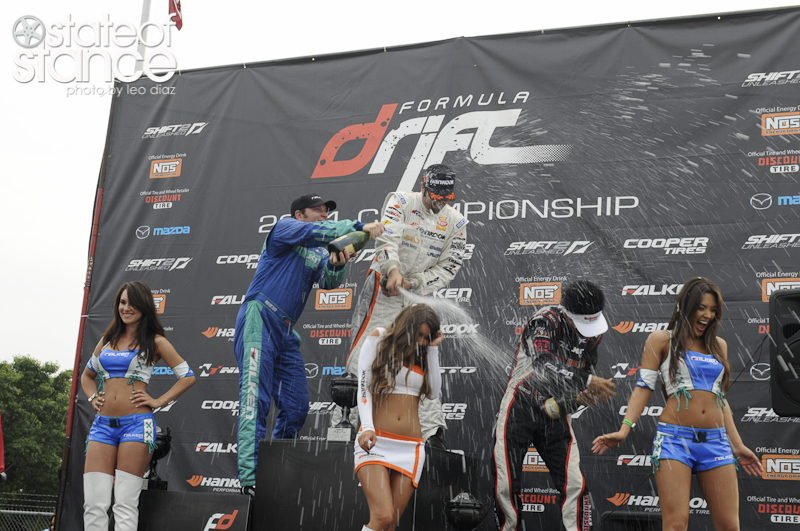 We've had the amazing opportunity to be a Media Sponsor for Formula Drift's 2011 season. It has been an unforgettable experience and has given me the chance to meet some of the coolest people in our industry and around the globe. This last event was different, its been a very long time since I have had a camera in my hands and even longer since I've done so for motorsports. Considering I've spent the last year behind a computer looking at code, writing articles, sending emails and packing and unpacking booths; the best parts of this last year have been meeting so many of you, either at events or at our booths. Putting names to faces and seeing everyone's excitement has made this journey worth it.
Because of this I decided to make the trek out to New Jersey and cover the Formula D event myself. I wanted to go hang out with friends and acquaintances that I've made over the last 18 years in the industry. So with shoes on my feet, a carry-on filled with camera equipment and a change of clothes, off I went.
Arriving at LGA I was greeted by my friend Marc. He happened to be in town visiting family and was down to catch the FD event. We linked up with his old crew from when he lived in Queens. A great group of people with an unparalleled hospitality and passion for cars. We spent the 2 hour drive to Wall doing nothing but talking smack about cars, drivers and the scene.
Arriving at Wall was just like any other event, a flood of modded cars bottle necking into a parking lot that resembled more of a car meet then a parking lot. After checking in, getting my media credentials and saying hello to friends I haven't seen in months, it was off to take some snaps.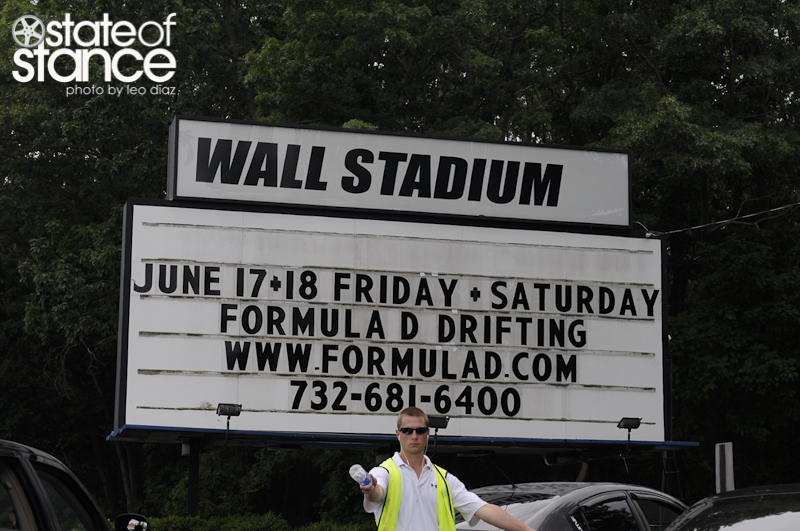 Once in the speedway the atmosphere was exciting and busy. People scurrying all over to see drivers, cars and of course models; an always favorite at any automotive event.  Falken's prestigious Umbrella Girls were on hand to give some drivers shade, give spectators some eye candy and of course autograph posters and merchandise for fans. As were the NOS Energy girls, offering drinks, smiles and photo ops.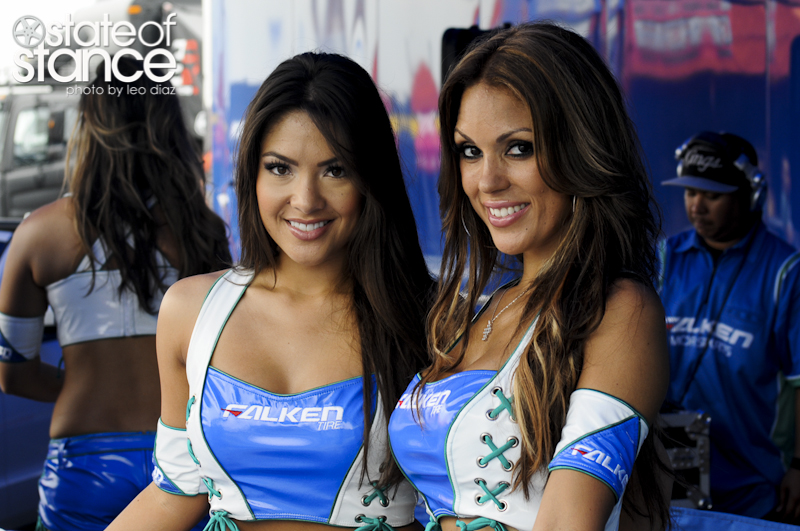 Our loyal and long term readers will remember that State of Stance did some work in late 2010 with Scion. It was nice to see some of the old tCruise staff at the Scion VIP tent where select Scion owners enjoyed drinks, food and the chance to meet Scion drivers Fredric Aasboand and Ken Gushi as they autographed tires. Amongst the drivers and owners, Jackie Ling (one of the master minds behind Urban Racer) and RJ DeVera were enjoying some shade and of course the usual event nom nom.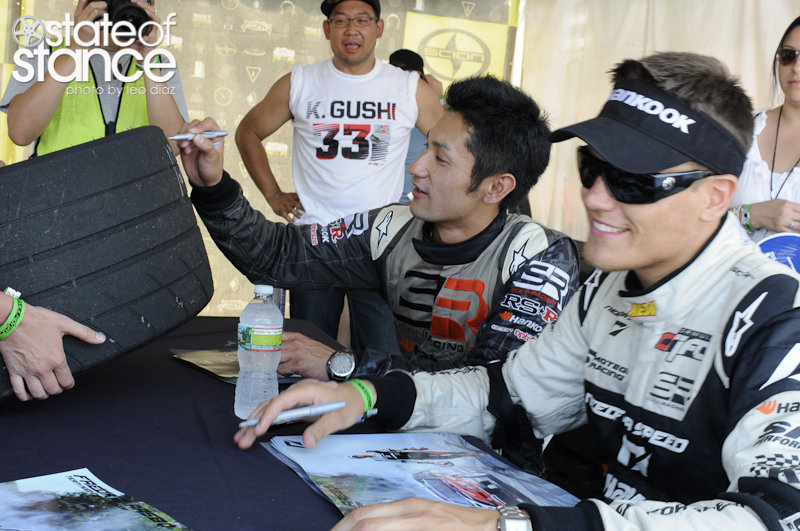 The final four vehicles gave a tremendous show for the fans with mounds of shredded tire and parts flying everywhere. Impact after impact, Wall speedway claimed quite a few cars that day. Even still, drivers were in great spirits in the paddock and did not lose concentration.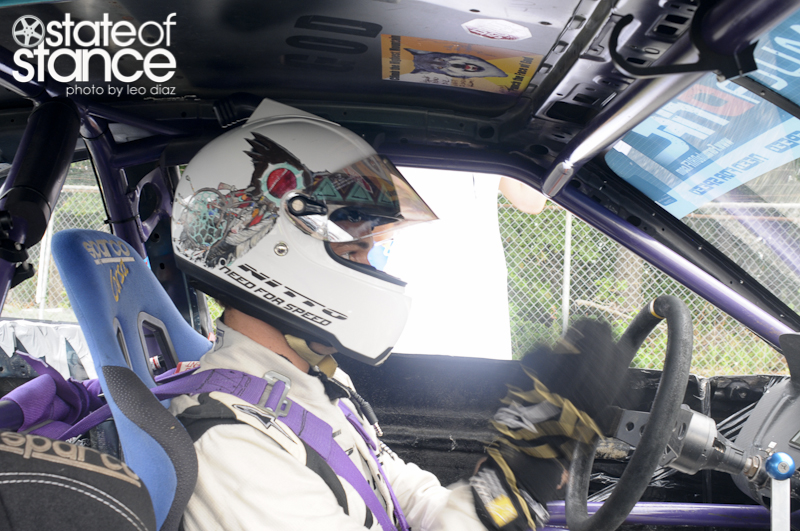 The first battle pitting number one qualifier Ryan Tuerck in the Mobil 1 / Gardella Racing Chevy Camaro against Conrad Grunewald in the Hankook Chevy Camaro. Tuerck went high on the banking, making impact which damaged his vehicle taking him out of the competition and automatically giving him fourth place. Current points leader Justin Pawlak in the Falken Ford Mustang faced teammate Daijiro Yoshihara in the Discount Tire / Falken Nissan 240SX to meet Grunewald in the finals. Yoshihara lost the battle and took third place due to Tuerck's damaged vehicle and moved into second in the Pro Championship points standings. The finals saw a battle of American muscle with Pawlak facing Grunewald. Grunewald edged out Pawlak for the first victory of his career. Pawlak remains the points leader with this third podium finish of the season.
"I'm really happy for the team," stated Conrad Grunewald, winner of Round 4: The Gauntlet. "We overcame a lot to get to this position this weekend. And I am overwhelmed to be on top of the podium for my first time and especially to do it by beating a Ford Mustang."
The Formula DRIFT Championship continues for Round 5: Throwdown at Evergreen Speedway on July 22-23. Tickets are available to purchase online.
With that, a night in NYC with long time friend Phil Luis and a very early AM flight home; my 24 hours in Formula D comes to an end. Hope you like the pictures and for more information visit: www.formuladrift.com
Formula DRIFT Professional Championship 2011 Point Standings after 4 Rounds
1. Pawlak, Justin
Falken Tire Ford Mustang
363 Points
2. Yoshihara, Daijiro
Discount Tire / Falken Tire Nissan S13
306 Points
3. McNamara, Darren
Falken Tire Pontiac Saturn Sky
291 Points
4. Forsberg, Chris
NOS Energy Drink / Hankook Tire Nissan 370Z
280 Points
5. Powers, Matt
Need for Speed Nissan S14
273.50 Points
6. Grunewald, Conrad
Hankook Tire Chevy Camaro
272 Points
7. Tuerck, Ryan
Gardella Racing / Mobil 1 Chevrolet Camaro
245 Points
8. McQuarrie, Tyler
Falken Tire Nissan 350Z
244 Points
9. Gittin, Vaughn
Monster Energy / Falken Ford Mustang
228 Points
10. Yoshioka, Toshiki
Retaks Nissan S13
213.75 Points
11. Mohan, Kyle
Nexen Tire / Mazdatrix Mazda RX-8
204.50 Points
12. Aasbo, Fredric
Need for Speed / Hankook Scion TC
169 Points
13. Gushi, Ken
RS*R / Hankook / Scion Racing TC
164.50 Points
14. Petty, Ross
Megan Racing / Nexen Tire Toyota Corolla
160 Points
14. Wilkerson, Walker
Fatlace / Intec Racing Nissan 240
160 Points
16. Waldin, Matt
Helix Energy Drink Nissan 350Z
159 Points
Round 4: The Gauntlet Event Results
1. Grunewald, Conrad
Hankook / CG Racing Chevy Camaro
Winner
2. Pawlak, Justin
Falken Tire Ford Mustang
Second
3. Yoshihara, Daijiro
Falken Tire / Discount Tire Nissan 240SX
Third
Tires.com Triple Crown (after 1 of 3 events)
1. Yoshihara, Daijiro
Discount Tire / Falken Tire Nissan S13
106 Points
2. McNamara, Darren
Falken Tire Saturn Sky
90 Points
3. Yoshioka, Toshiki
Retaks Nissan S13
79 Points