History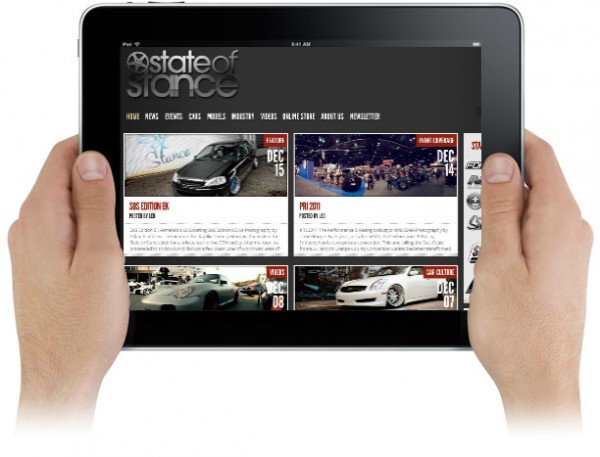 Company Profile:
Q: How did State of Stance get started? 
A: State of Stance was established in 2010 by Leo Diaz of Miami, FL. Leo, a tuner and builder since the early 90's, started jdmStyles as a subsidiary of Styles Media LLC in 2001. Being in the scene for over two decades has allowed him to establish contacts in all aspects of the industry. In early 2010 he and two friends, Geoff Ryan and Sergio Ramirez, decided that the South Fl scene needed to be reignited. With a gas can in one hand and a match in the other, they meet several times at "the office" (the Doral Ale House) and over beer, wings and pure automotive passion, conceived the May 2010 State of Stance event. Having only two months lead time, they quickly scrambled to put the event together.
The response was surprisingly amazing, many Florida tuners where waiting for something like this and many volunteered to help any way they could, some of the volunteers later becoming State of Stance staff. A full promotions team and event staff was assembled and on they went. The event was a complete success and State of Stance was now officially rolling.
Q: What is State of Stance all about?
A: Simply put, we are a media/press and automotive blog promoting "Global Car Cluture". While we do focus on the aggressive fitment movement we showcase some of the greatest cars from all aspects of motorsports. We believe that every setup has its own "state of stance" and want to appreciate each style; everything from "hardparked stance", to "track stance", to "street stance" and everything in between.
We have had the opportunity to work with other industry leaders and community organizers to continue highlighting Florida on the map in the automotive community. This alone has propelled State of Stance to grow at an international level with readers and fans from 180+ different countries. Now housing a proper staff, State of Stance, Inc. is continuing to work with both grassroots as well as largely established motorsports companies to fuel the automotive scene and expand our automotive culture into a global cultural.
Q: What's up with lower|wider?
A: Since the conception of motorsports, the idea has always been to be as low and as wide as possible. Most of what we like to see has trickled down from motorsports. In motorsports a low center of gravity and a wide track make for better handling, over time this has been adopted as the "look" a car should have. We here at State of Stance love this mentality of as low and as wide as possible. Many will argue that the extremes of this theory are just fads and will go away, but it's more than that. Builders have been thinking lower|wider for decades all around the world; we're just stepping it up and doing it on another level.
Q: What can I expect to find on State of Stance?
A: As part of the culture and community you will find from State of Stance a full range car & model features, automotive culture posts, motorsports coverage, industry news and State of Stance & lower|wider collectibles/accessories to spread the word and showcase your love for State of Stance and the scene.
For more information about us or to inquire about anything else, feel free to contact us at info@stateofstance.com