Feb

03
Tags
Related Posts
Share This
Formula Drift | 2014 Tickets on Sale
Formula Drift
2014 Tickets on Sale
Words by: John Pangilinan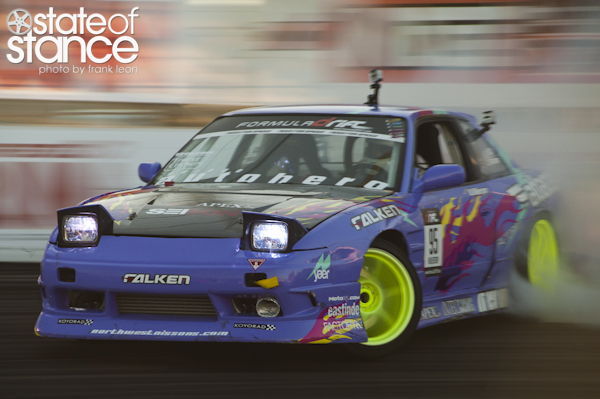 Long Beach, Calif. – January 29, 2014 – Formula
DRIFT kicks off the eleventh season of competition beginning with Round 1:
Streets of Long Beach on April 4-5. Tickets are now on-sale and can be
purchased online via the Formula DRIFT website, www.formuladrift.com
"This will be our seventh consecutive year drifting on the Toyota Grand Prix of
Long Beach Street Course," said Jim Liaw, president and co-founder of Formula
DRIFT. "With the new season brings new cars and new drivers to the Series and
we are excited to kick off the action in April to another sell out audience."
To satisfy the demand for seating over 2,000 reserved tickets seats have been
added to the venue to ensure that fans can sit and enjoy the action. Tickets
are available online for purchase with the option to select from any of the
available grandstands. A new VIP experience is also being added for purchase.
The FD VIP Experience will grant access to preferred seats in grandstand 18, a
track-walk during opening ceremonies where fans will be inches away from the
drivers, a line pass for the autograph session and a signature Formula DRIFT
credential. No matter where fans sit they can also expect to see every inch of
the course with the newly updated, massive jumbotrons at the facility.
Tickets are now available for Round 1: Streets of Long Beach on April 4-5,
including reserved seating, 2-day ticket packages, and VIP tickets and can be
purchased through www.formuladrift.com, Ticketmaster outlets, and the Long Beach
Convention Center box office. Ticket prices start at $35 online with all seats
reserved for Saturday's competition day.
Round 1: Streets of Long Beach will feature the championship defense for
Michael Essa and top contenders Chris Forsberg, Daigo Saito, Fredric Aasbo and
Vaughn Gittin, Jr. in addition to new drivers and vehicles that will make their
debut at the season opener. The season kickoff will also showcase the new
Offset Kings car show.
For more information visit: www.formuladrift.com