Jan

15
Tags
Related Posts
Share This
Air it Out | Vossen Accord pt.2
Air it Out
Vossen Accord pt.2
Photography by Nelson Queralta
Words by Emil Garcia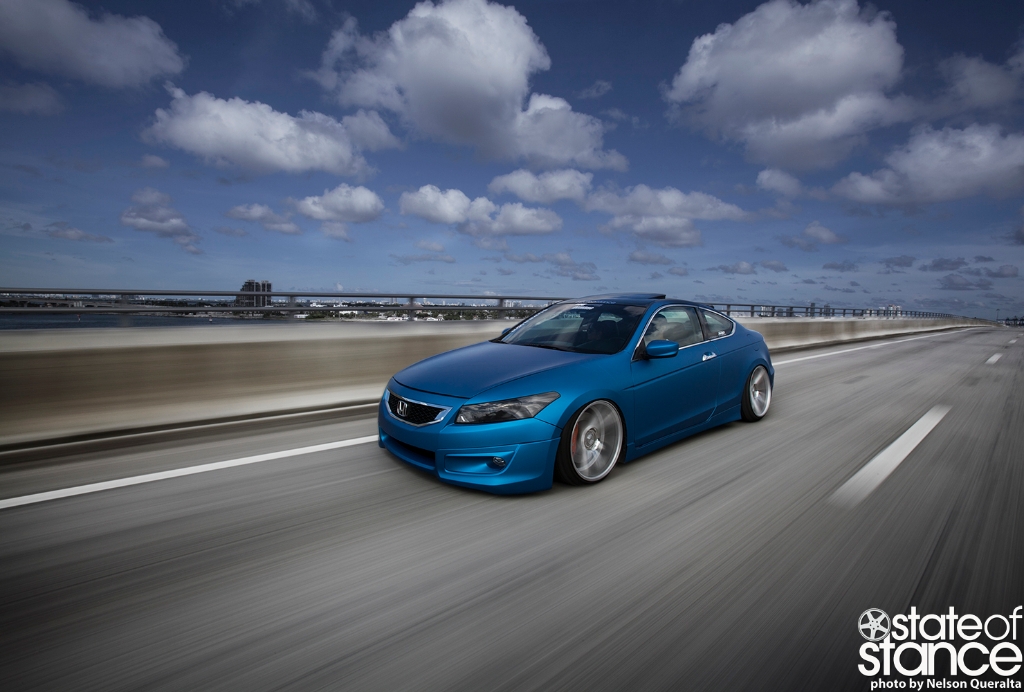 Some time ago we featured Jorge Alvarez's CS1 accord coupe, previously it was static on Vossen CV2. Things have changed since the last time that we saw this car, and for the better.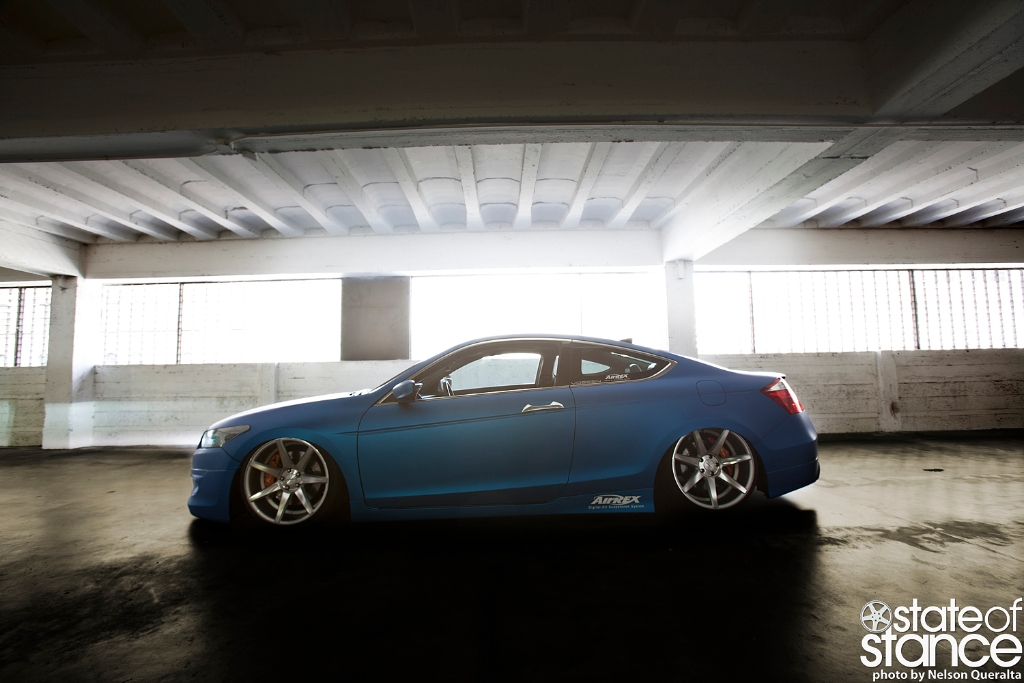 Jorge's has gone through a rather drastic transformation. Instead of his previous set of coilovers, Jorge now rides around on Airex full digital air suspension, and he has ditched the Vossen CV2s in favor of newer Vossen CV7s (20×10.5)

For those of you who have seen the car previously, you will have notice that the interior has also received an overhaul. The guys over at Tailor Made have done an amazing job by wrapping the factory seats in C Rust Italian leather. Black suede accents run through the front and rear seats.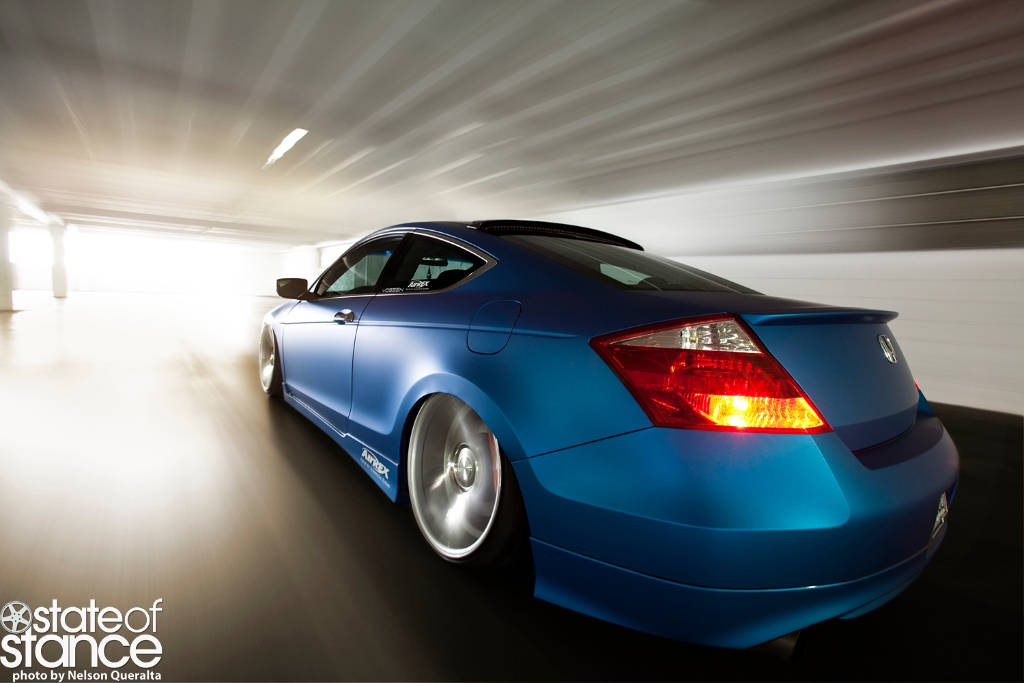 Rounding out the transformation, Jorge has wrapped the car in Matte Blue Pearl 3M vinyl. Jorge has taken a great amount of time and effort and poured it into this car. Its a beautifully done take on a not so common tuner. At the rate at which this is going, im sure we will see something bigger and better from Jorge in the future. Keep Tuned and we will continue bringing you the…goods.
Suspension:
AirREX Full Digital Air Suspension
SPC Front Ball Joint- 1.5 Adjustable Camber
SPC 3 Arm Camber kit 3.0 Degree adjustable -/+ camber
Ultra Racing 7 Piece Chassis package
Ultra Racing Front Tower bar
Ultra Racing Front Lower bar
Ultra Racing Mid Lower bar
Ultra Racing Side bar's
Ultra Racing Mid/Rear Lower bar
Ultra Racing Rear Lower bar
Progressive 22mm Rear Sway bar
Performance:
Magnaflow Cat-Back Exhaust System
RV6 Long Tube J-Pipe
RV6 Pre-Cat Deletes w/ceramic coating
ZEX EFI Wet Nitrous System, 2 Bottle System
ZEX 2-Bottle warmers
ZEX 2-Bottle pressure Gauges
ZEX Dual Purge Kit
Unorthodox Racing Under-drive Pulley
V-Gate S-belt
MDX Intake Manifold Spacer
P2R Ported Intake runners
P2R Throttle Body Spacer
P2R Thermal Gaskets
AEM Cold Air Intake
AEM Digital Wideband
Weapon R I-Throttle Response
Ingalls Engine Torque Damper
Wheels:
Vossen Wheels, VVS-CV7 Polished Silver
20×10.5 All Around
General tires 235/35/20 All Around
Brakes:
Ksport Front Big Brake Kit 14″ Rotor, 8-Piston Caliper
Ksport Rear Big Brake Kit 13″ Rotor, 6-Piston Caliper
Interior:
Full Imported C. Rust Leather from Italy
Black Suede accents through the front and rear seats
Front Headrest have C.Rust leather with Custom Divided Black Suede
Custom rear center headrest delete, with Sub-Dividing Black suede
Center Armrest, and Door armrest have C.Rust imported leather divided by Black Suede
Headliner, C-Pillars, A-Pillars, Moonroof Shade, all done in Black Suede
Visors have C. Rust imported leather pockets, while covered in Black Suede
Miscellaneous:
WeatherTech Visor's in DARK TINT
Sonora Rear Roof Spoiler
Custom Sonora Spoiler LED Brake Light
Custom Painted Roof Night Hawk Black Pearl
NEW 3m Vinyl Wrap in Matte Blue Pearl