Mar

13
Tags
Related Posts
Share This
NSCRA Tuner Challenge
NSCRA Countyline Raceway | March 18th
Tuner Challenge 2K12 "Street Fight Edition"
NSCRA has teamed up with Countyline Raceway to bring the NSCRA excitement closer to home.
Dont' miss this event! Bring out your racekors and run them down the freshly redone 1/8mile track, or bring out your showkor and complete for NSCRA awards including a Stance award presented by us, State of Stance, or just come our to peep some fast cars, sik rides, and hot models.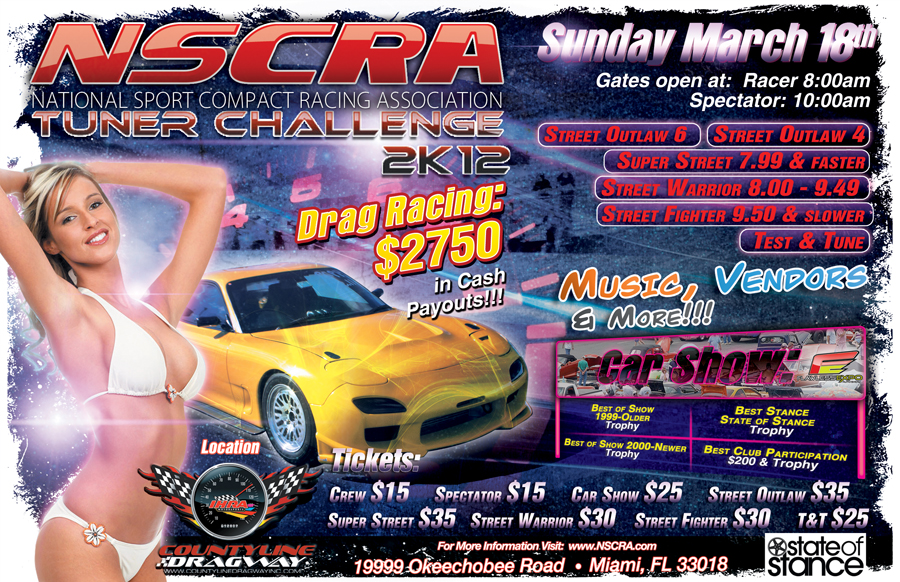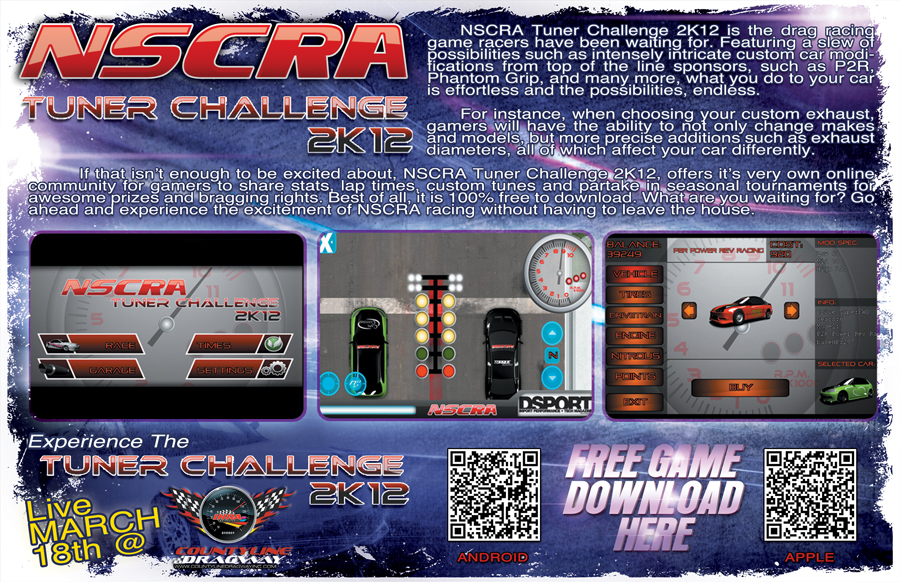 Don't miss the action March 18th at Countyline Dragway as the National Sport Compact Racing Association welcomes all "Street Racers" to an event of a life time. The "NSCRA Tuner Challenge 2K12" is your chance to take it from the street to the track & prove to the world that you can compete with the best of the best. "Street Racers" from all over will race for thousands of dollars in $$$ prize money, trophies, bragging rights, and a chance at the "NSCRA Tuner Challenge 2K12" Driver search!!!  If the racing action is not enough, then make your way over to the "Flawless Expo Auto Show", which will have car show classes, $200 for The Best Club Participation, vendors, music, models, and more.  Everyone will be a winner at this event!!!
NSCRA Tuner Challenge 2K12 "Street Fight Edition"
Where: Countyline Dragway
When: Sunday March 18th
Gates open at: Racer 8am – Spectator 10am
Street Outlaw 6
(Quick 8, Heads-up,  6 cylinders & 3 Rotor Sport Compact's Only, OEM Chassis allowed, Mini Tubs allowed, No Tube Chassis, No ¾ Chassis, No ½ Chassis," Fiberglass Bumpers, Front Fenders, Hood, & Trunks/Hatch allowed")
Winner $450 trophy
Runner up $225
3rd    $75
Street Outlaw 4
(Quick 8, Heads-up, 4 cylinders & 2 Rotor Sport Compact's Only, OEM Chassis allowed, Mini Tubs allowed, No Tube Chassis, No ¾ Chassis, No ½ Chassis," Fiberglass Bumpers, Front Fenders, Hood, & Trunks/Hatch allowed")
Winner $450 trophy
Runner up $225
3rd    $75
Super Street 7.99 & faster
(Quick 32, Sport Compact's Only, ET Bracket, OEM Chassis allowed, Mini Tubs allowed, No Tube Chassis, No ¾ Chassis, No ½ Chassis, "Fiberglass Bumpers, Front Fenders, Hood, & Trunks/Hatch allowed")
Winner $450   trophy
Runner up $225
3rd    $75
Street Warrior 8.00 – 9.49
(ET Bracket)
Winner $300   trophy
Runner up $50
Street Fighter 9.50 & slower
(ET Bracket)
Winner $150   trophy
Test & Tune
(Open to all makes & models)
Car Show:
(Open to all Imports & Sport Compact Domestics)
Best of Show 1999-Older
Trophy

Best of Show 2000-Newer
Trophy

Best Stance
Trophy
Best Club Participation
$200 & Trophy
For more information please visit NSCRA.com