Dec

19
Tags
Related Posts
Share This
Uzi Firing Squad
Uzi Firing Squad 
lower|wider ™ Styled Cabrio
Photography by Jared Houston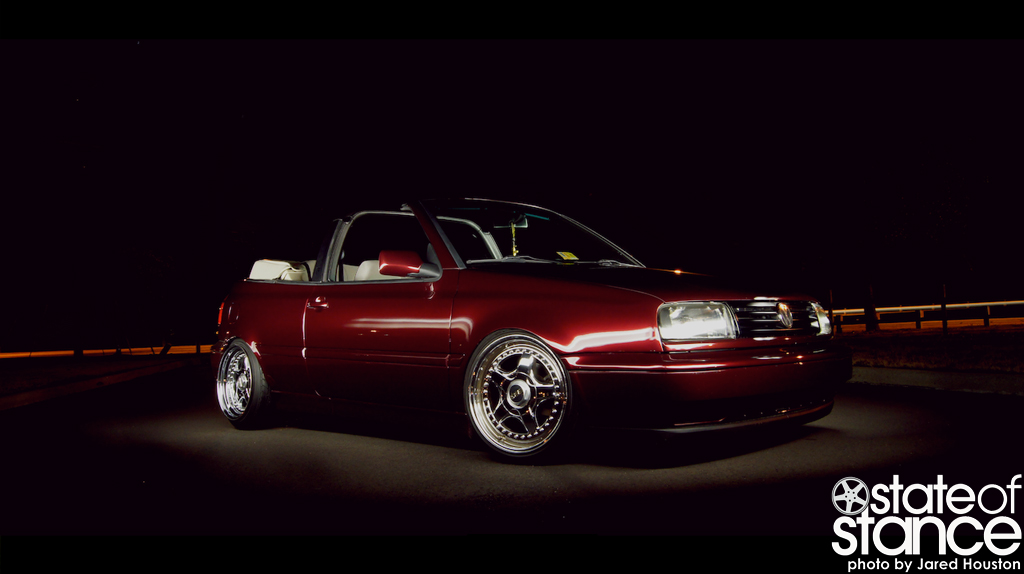 When one thinks about a Cabrio, they think top down, great weather, wind blowing through your hair and tunes jamming. Fuck that Ken & Barbie bullshit, this is the Uzi Edition Cabrio; and I don't mean Modern Warfare styling. I'm talking slammed, tucking, poking, shining, and looking badass and clean styling.
Brian Cook, known to most as "Uzi", built this 1998 VW Cabrio with the lower|wider™ mentality. This of course is not his first rodeo. He has built an MKIV, two MKIIs and an MKIII. When it came to this Cabrio, he noticed that not many people where building them; thinking of course at the time that it was because it tends to be a 16year old cheerleader's car. However that mentality did not fog his vision for the car.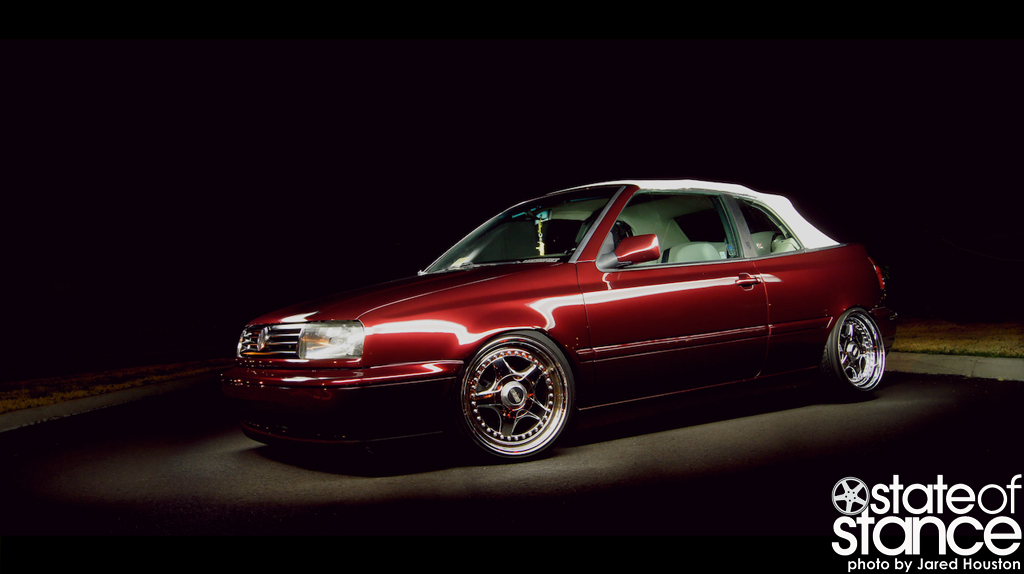 When building the car, he had no intention of doing a Jetta front end. Yet as most builds tend to do, it slowly took a life of its own. After hunting down some missing pieces the front end was together and it was time for paint and body work.
Tyler (no, not Tyler Durden, but just as cool) starting molding and shaving to get the car's body smooth and clean. Bumper, antenna, third brake light and emblems all met a timely death at Tyler's hand. Once complete the car was ready for a full re-spray.  
Looking at color after color became a very tedious process. One color kept popping up (kinna like that ex that won't stop calling). That persistent color is the gorgeous Deep Cranberry Red Metallic.
That car made its debut at SoWo and it was a huge hit. At that time though, he was rolling on RM 50/50's gold and polished. Always loving BBS RF's it was no surprise that an all chrome set found their way on the car just in the nick of time to make H2O.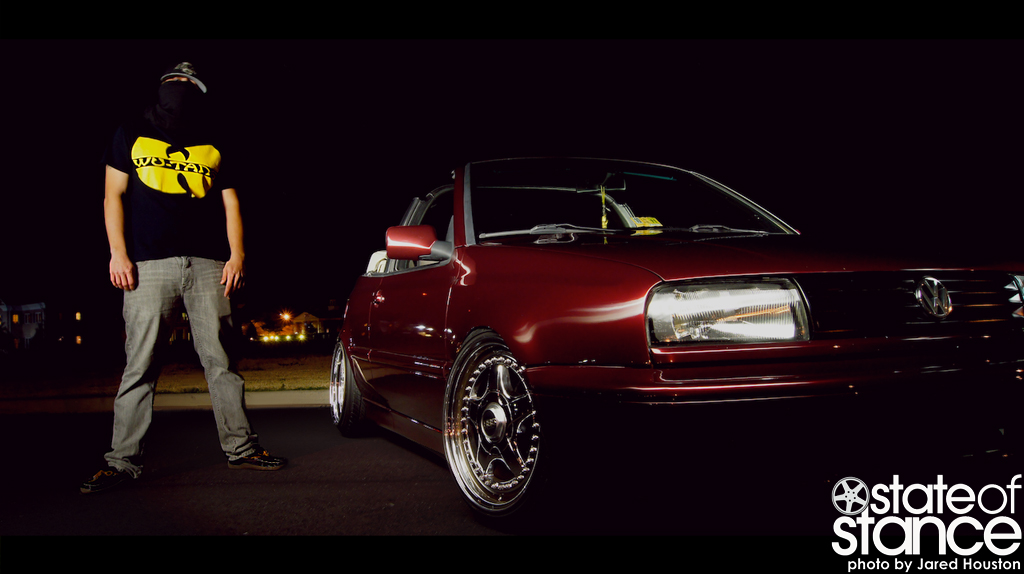 After H2O, the car saw its fair share of bad times… (we'll leave this sad part out). Because of this, it made its way back into Tyler's hands. This time the fenders found themselves being massaged out for that wider look.
Body: 
Fully color changed, Cadillac deep cranberry red metallic
Shaved front bumper
Shaved antenna hole
Painted door handles
Painted mirror caps
Pulled front and rear fenders
Shaved emblem and third brake light
Shaved exhaust cutout
Smoked ecodes
Early vento grill
Suspension:
Vmaxx coilovers
Banchwerks 2.5 degree drop plates
Wheels:
17×8.5 et20 and 17×10 18 fully chromed BBS RF's
205 40 17 and 215 40 17 falken 512's
When talking to Brian he was very thankful for his wife Krystal aka Mrs Uzi  and their new baby boy! (Congratulations!)
As well for Jesse Arellano, Scott Camp, Kevin Krugg, and Tyler Keeling for all the effort and time they devoted to the build. His parents Brian and Susan Crook, aka papa uzi / mama uzi for putting up with him using all their tools and driveway space.  Banchwerks for the drop plates. Dave and Evan at CARS Inc. for taking care of the tires. To Manny and Ramon of HighwayStar Garage.  To the boys at Dub Empire, SUMOSPEED, and Dub.Fresh.