Aug

04
Tags
Related Posts
Share This
Crowned | VIP King
Car: Lexus GS300
Owner: Kam Vaswani
Word By: Leo Diaz
Photos By: Rsellos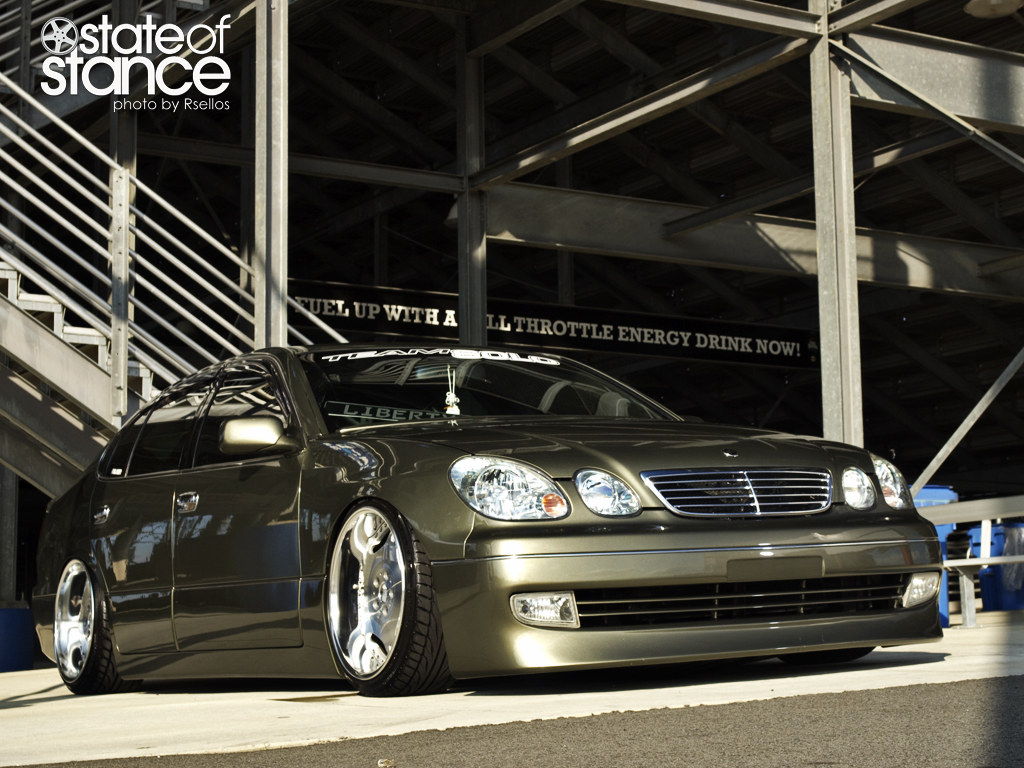 There is a lot that can be said about the owner of this Lexus; Kam Vaswani. Kam is just like you and me in that he loves cars, loves modding and loves our scene. Then again he is nothing like you and me in the fact that he sees this lifestyle as a series of challenges in which he only wants to conquer. Oh, and conquered he has.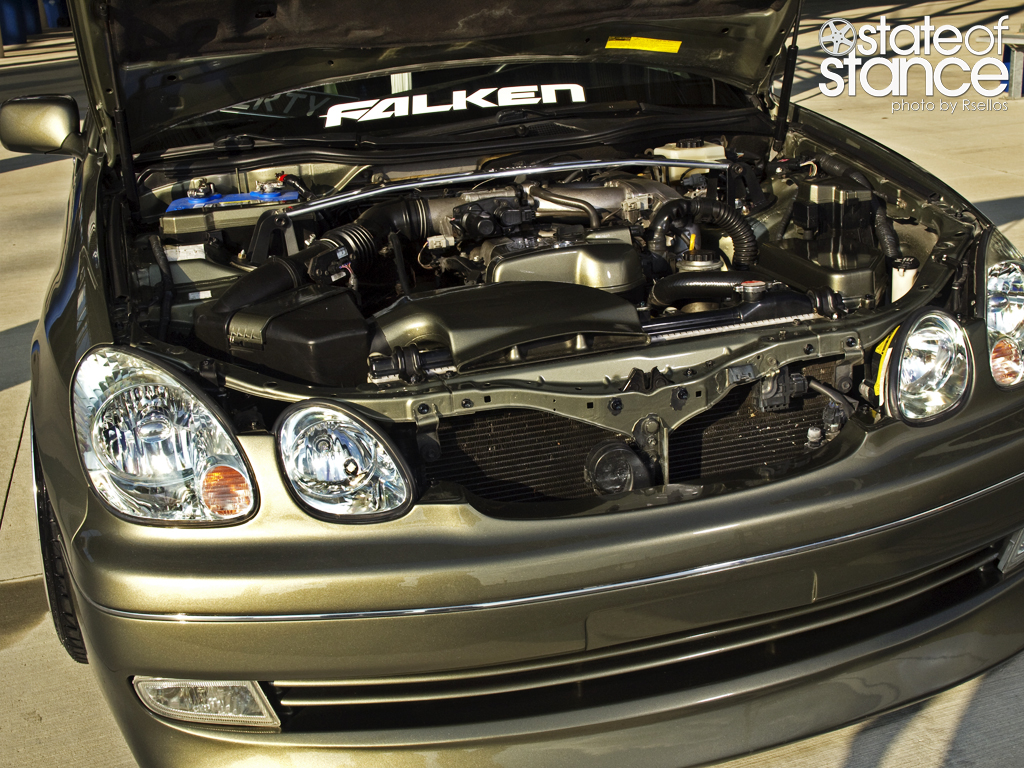 He built this masterpiece because, "…thieves never get me down." After having his K20 EG stolen and most likely stripped to shreds; Kam didn't give up. Taking 1st Place at HIN Miami in the EG meant he could build a car that was recognized and appreciated; and even though the EG was gone, the bragging rights that it was the first K20 EG built in Florida still remained. A loss of this nature would cause most of us to have a conniption, however Kam just saw it as minor setback; haters gon' hate!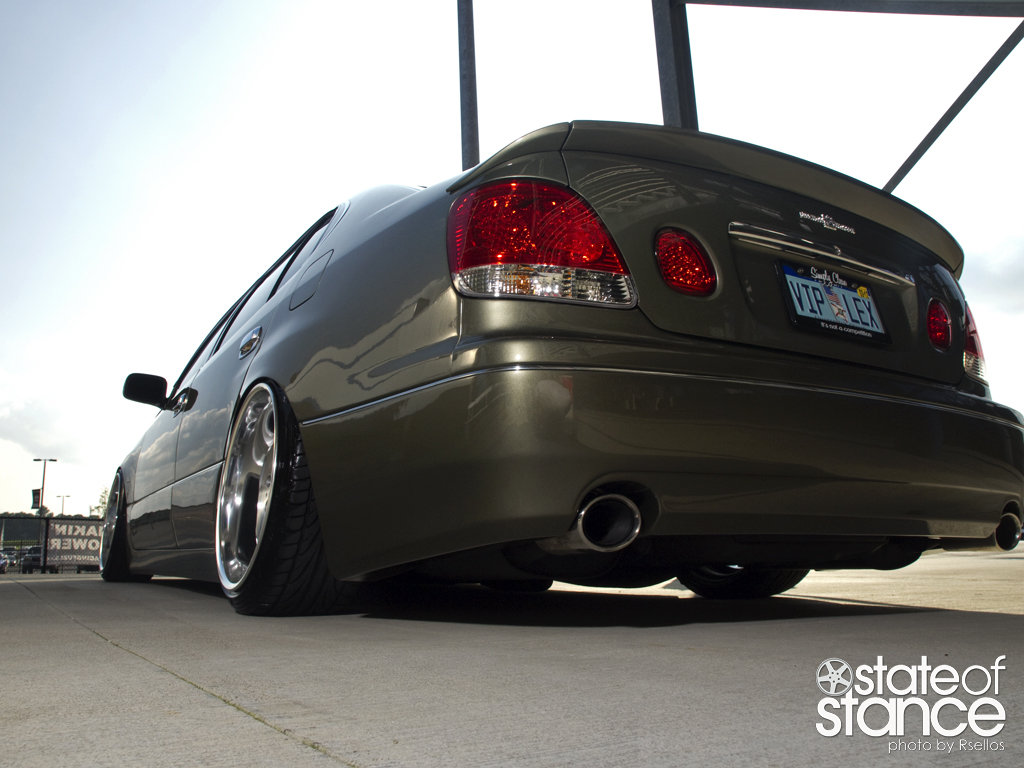 Acquiring this GS300 about 2 years ago, he set fourth on a massive modding mission that was going to make all the haters cry. He has put insurmountable time and effort into this project and is now relishing in what is the culmination of his build. Acquiring a list of sponsors that looks more like the vendor section of a Formula D event and compiling a mod list longer than my driving record are only the beginning.
Kam still has mounds of plans for this build who's paint color was inspired by Javed Gul, Team Solo's president; and he would like to thank all the people that have helped him get were he is; Aclass Paint and Autobody , Falken Tire, Meguiars , RideTech, Rsellos Photography, AutoFashionUSA, D2 Racing, Vipdout and State of Stance.
Exterior
Junction Produce authentic 16 piece kit
Junction Produce 3 piece trunk spoiler
Junction Produce roof spoiler
Junction Produce hood bonnet
Junction Produce hood badge
Junction Produce logo&mark emblem
Junction Produce fog lights with 3K HIDs
JZS161 Toyota Aristo window visors
Kazz Sports authentic grill
Insurance Co LED rear taillights GS400 auto leveling headlights with 6K HIDs
Custom widen front fenders (10mm)
Custom widen rear quarter panels (11mm)
Interior
Junction Produce neck pads
Junction Produce curtains
Junction Produce white Fusa
Junction Produce gold Kituna
Advanced Keys custom push start
Advanced Keys keyless entry
(I am the only GS in the US with this setup.)
Fully customized Vip'd Out front VIP table with Sake Bottle.
Elite Auto Style VIP puddle lights
Weather Tech Lexus all weather floor mats
Fully customized courtesy lights
Fully customized wood grain tables
Fully customized leather/suede steering wheel
Black suede dash with white double stitching
Black leather seats/black suede with inlayed diamond stitching and double stitched
Black suede headliner
Suspension
19×10 Leon Hardiritt Biels (front)
19×11 Leon Hardiritt Biels (rear)
Falken 452 225-35-19 (front)
Falken 452 235-35-19 (rear)
D2 coilovers
D2 Slim air bags
Ridetech full air suspension management
Ridetech 5 gallon air tank (Custom painted to match paint.)
2 Ridetech air compressors
Project Kics R40 Neo Chrome open ended lugs
Embertek 6 piston big brake kit painted in NeoChrome.
Rod Millen front strut tower brace
Daizen Steering Rack Bushing kit
Daizen Tire Rod Bushing kit (inner and outer)
Entertainment
JL Audio 450/4 amp
JL Audio 1000/1 amp
JL Audio 1 12w7 subwoofer
Pioneer AVIC D3
MB Quarts 6 1/2 Component (front and rear)
MB Quart Tweeters (front and rear)
Monster 300 DigiCap Stiffening Capacitor
Phoenix Gold audio wiring Completely Dynamated
Fully hardwood flooring customized trunk
Engine
2JZ-GTE pistons
2JZ-GTE cams
Walbro 255cc fuel pump
HKS head gasket
HKS air filter
GS400 3 inch exhaust piping
S2000 custom exhaust tips