Jun

17
Tags
Related Posts
Share This
Flush Friday | Tuck'n & poke'n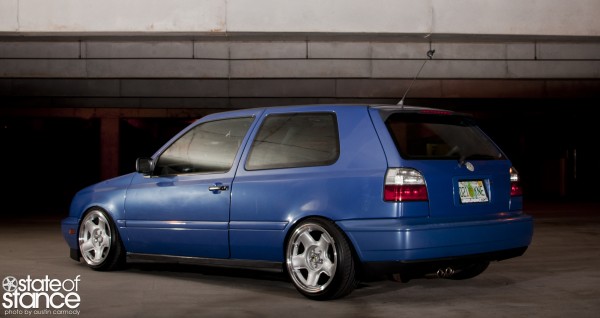 When building a purpose built track car, builders always say "if it doesn't make the car faster, lighter, or safer then it doesn't belong on the car." Georgie Guevara takes a similar approach when it comes to his 1996 VW Golf GTI purpose built show car, only instead of using the words "faster, lighter, and safer" he opts for "lower, wider, and cleaner".
The "lower" is achieved thanks to a set of Rokkor Tuning coilovers and a set of raised motor mounts that leave his oil pan smiling while his frame screams for an air ride system when he drags it along these rough Florida roads.
The "cleaner" comes from a lack of stickers and decals that seem to cover most cars these days. The paint is all original and very rare for this body style. As far as Georgie knows, his is the only Catalina blue MK3 GTI in Florida. Simplicity is the goal here with the only exterior modifications being rolled and pulled fenders. The simplicity continues on the inside with a black suede headliner and seats out of a golf 2.0 imported from Germany.
The wheels are very special to Georgie since he has wanted a set of these since he was 17 years old. Now that he them in 16×9 wrapped in Falkin 512's we can say that this car is complete, and when you do see it at a show, you will stop and take a closer look because with style like this it and a stance like that it is impossible not to.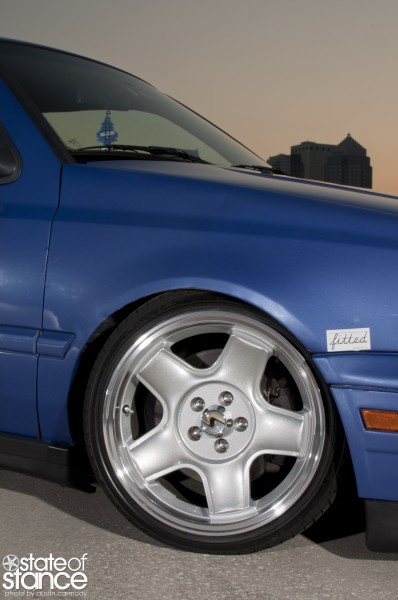 Car: 1997 VW Golf GTI
Owner: Georgie Guevara
Photography By: Austin Carmody
ENGINE:
VR6 Swap
268 cams
GIAC chip
Pelequin LSD
EXTERIOR:
Rolled and pulled fenders
INTERIOR:
Suede headliner
Suede pillars
Mk4 shift knob and boot
SUSPENSION:
Rokkor tuning coilovers
R32 control arm bushings
Black Forrest Industries Stage 1 solid mounts
WHEELS/TIRES:
Schmidt Modern Lines 16×9
Falken 512 205/40/16