Jun

02
Tags
Related Posts
Share This
Not A One Hit Wonder
While writing this up I can't help to think about the first time I met Huey. It was at the Simply Clean 2 event. As I stood there watching everybody stare at his Civic in astonishment, I couldn't help to think as beautiful as this car was, can he do it again? Well…Huey defiantly delivers. Huey known for changing rims like some of us change clothes, has also had people waiting for the next event to see what he'll do next. Kind of like a band releasing new hits, Huey is not a one hit wonder.
After sitting down and talking to him during a previous photo shoot I learned that he shared the same goal as me. Which was to build an S2000. Over the next couple of months I kept up with Huey and the rumors of him selling his head turning Civic. Finally there it was. I logged into a local forum to see an FS thread for the Civic we just featured a few months back. "Is he really selling it?" I thought to myself. Not letting anybody know of his upcoming plans Huey ended up selling his car and picked up a Formula Red Honda S2000.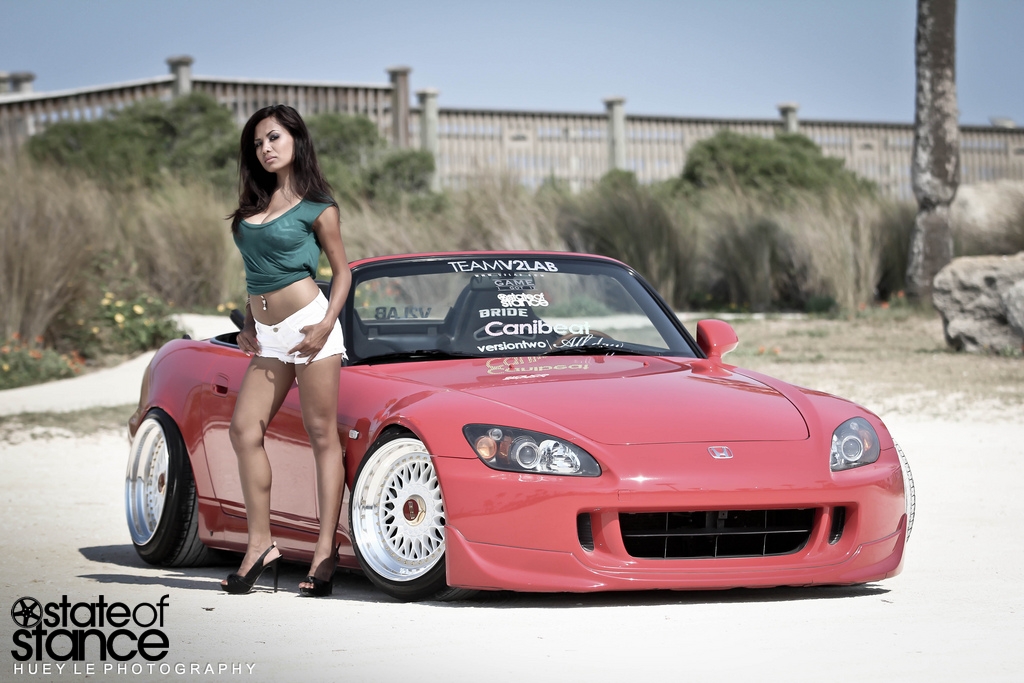 With under a month 'till his first meet, Huey quickly went to work. Lowering the car and slipping on some Work VS-XX. Huey brought the car out to the V2Lab Big Meat and once again was turning heads. As much attention as he got with the new ride and fitment he still was not happy. So knowing a bunch of shows were coming up Huey did what he does best, he started over with a new stance and new wheels. No stranger to BBS, Huey went with a Prima Donna finish; white face RS's with gold hardware. The fronts are 17×9.5 +28(2″ lip), and the rear 17×10.5 +22(3″ lip).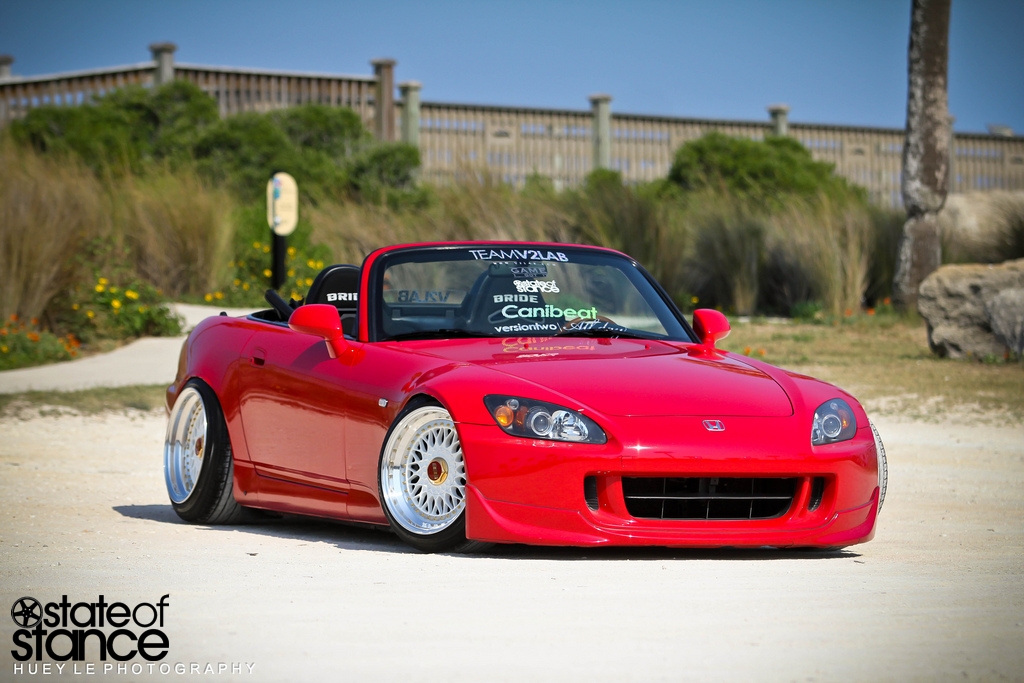 With Slammed Socitey right around the corner, one can't help to think…what will Huey do next?
Huey Le
2007 Honda S2000 in New Formula Red
Engine mod:
-24kt dipped valve cover
-ARC Titanium spark plug cover
-ARC Induction box and chamber arm
-Spoon Reservoir covers
-Spoon radiator cap
-Spoon polish oil cap
-Alloy Craft polish cooling plate
-Beatrush aluminum underpanel
Interior mod:
-Bride Brix II seats w/ gradation
-Bride rails
-Bride gradation shift boot
-Blox ltd edition 24kt gold shift knob
-Nardi Wood Classic Steering wheel
-NRG rose gold Quick Release
-NRG short hub
-CR floor mats
Exterior mod:
-Ap2 front lip
-CR side markers
Suspension:
-Megan Track edition full coilovers
Wheels:
-BBS RS in Prima Donna Finished~FR: 17×9.5 +28(2″ lip), Rr: 17×10.5 +22(3″ lip)
-24kt dipped hex caps, white faces, gold bolts, and red caps.
Tires:
-Falken 912~Fr: 205/45/17 Rr: 225/45/17