Apr

14
Tags
Related Posts
Share This
RPM Miami
RPM Miami – Que pasa USA meets 2F2F
It seems as if the idea factory has been closed for some time now. So in the effort to continue to churn out recycled garbage, soap opera giant Telemundo has begun a bilingual series on their youth market sister channel Mun2.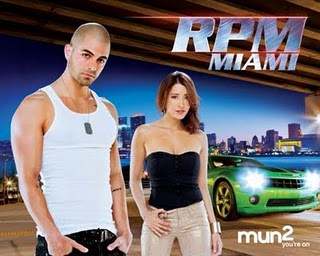 Ok, so you say what's new about this? Well its no Que pasa USA, it is a series called RPM Miami; a story about speed, corruption, danger and passionate love. In other words, Fast and Furious meets Hispanic soap opera. RPM Miami takes viewers to the streets and the race tracks of the cities of Sunny Harbor and Miami, (I didn't realize we had race tracks in either of those cities), where a group of young friends struggle to make something of themselves by day and reign the underground racing scene by night.
The weekly "dramela" (drama series/novela) follows Alejandro (Adrian Bellani), a top US Army Ranger who, following his discharge, returns to his hometown of Miami, only to find out that his father is missing and his family has fallen into financial hardships. Determined to uncover the truth about his father's disappearance, Alejandro must enter the dangerous world of Miami's underground street racing, a lifestyle full of action and drama. At the center of the storm is Luisa (Fernanda Romero), a woman looking to find herself and move away from a tormented past.
It's a 13 episode series that premiers on May 1st and considering its being produced by Telemundo, you can expect scantly clad women, gratuitous cleavage shots and a cast of attractive Hispanic actors including Award-winning Latin recording artist Frankie J as co-star, playing Alejandro's best friend, Ramon. (How'd Ramon make it in here… lol)
Let's cross our fingers and hope they didn't completely screw the pouch on this one, but I'm betting against it.
For more information on RPM Miami, visit Mun2