Mar

16
Tags
Related Posts
Share This
Supercar Experience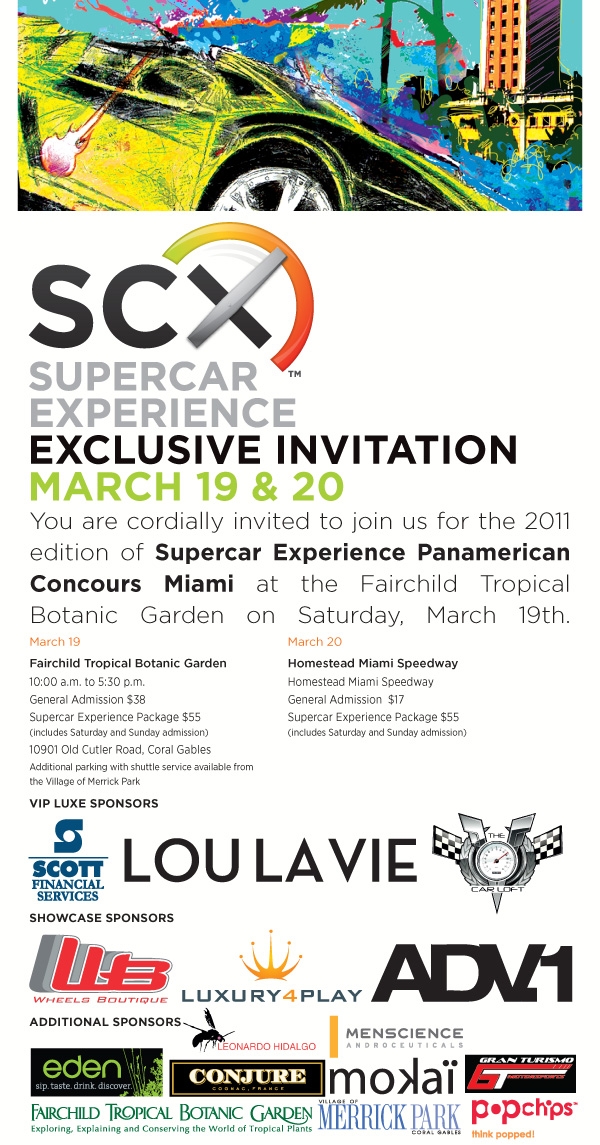 The Supercar Experience hits South Fl with exclusive coverage by Edward Perez.
The Supercar Experienece (aka SCX) is an assembly of the world's most alluring collection of privately owned supercars, the event is slated for Saturday March 19th 2011 from 10:00 a.m. to 5:30 p.m. at the Fairchild Tropical Botanic Gardens (10901 Old Cutler Road Coral Gables, FL 33156) with an open to the public Supercar Owner Day and Track Event taking place Sunday March 20th 2011 from 9:00 a.m. to 6:00 p.m. at the Homestead Miami Speedway (One Speedway Boulevard Homestead, FL 33035).
A showcase at this year's Supercar Experience, eGarage (www.egarage.com), is proud to announce an on-site display of two of its most impressive vehicles: The 2008 Koenigsegg CCX and the 2011 Shelby SuperCars Ultimate Aero. A speed-lover's ride, the Koenigsegg CCX is a Swedish mid-engine supercar capable of up to 250mph and was once the fastest lap holder on Top Gear's circuit. The SSC Ultimate Aero, from Washington state-based Shelby Super Cars, previously held the world record for top speed of a production car. Adding anticipation to the mix, eGarage has stored both supercars in secret locations until their rightful unveiling at Supercar Experience this year.
Other than the top-notch vehicles provided by eGarage, Supercar Experience is pleased to announce additional specialty showings such as:
2008 Bugatti Veyron
2008 Alfa Romeo 8C
1992 Ferrari F40
2005 Maserati MC12
1973 Ferrari 365 GTB/4 Daytona
1970 Plymouth Superbird
Following five successful years in Palm Beach, Supercar Experience is ushering in a new chapter for the premier supercar show by bringing its success to Miami in an open to the public format. General admission weekend passes for the Supercar Experience Panamerican Concours 2011 Miami at Fairchild Tropical Botanic Garden and the Supercar Owner Day and Track Event the following day at Homestead Miami Speedway are available for purchase on-site for $55. Children under the age of 12 are free and must be accompanied by an adult. Additional parking and shuttle service will be available from The Village of Merrick Park (358 San Lorenzo Avenue Coral Gables, FL).
Complete list of sponsors:
Scott Financial Services
Lou La Vie
The Car Loft
Wheels Boutique
Luxury 4 Play
ADV.1
Eden South Beach
Conjure
Leonardo Hildalgo
Mokai Lounge
MenScience
Pop Chips
Fairchild Tropical Botanic Garden
The Village of Merrick Park