Feb

09
Tags
Related Posts
Share This
The Rolex 24 at Daytona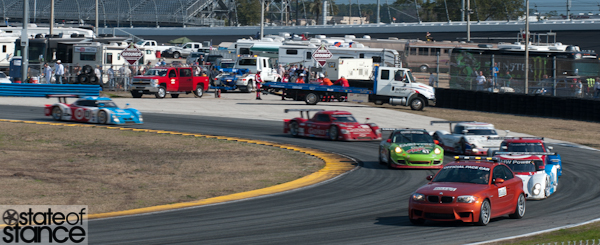 Words and Photos by: Frank Leon
While hanging out with a few friends at my buddy Alberto's (White Mugen'd Fit, sticker bombed rear windsheild)  house one night they informed me that they were going to go the Rolex 24 hour race at Daytona International Speedway…..and they were leaving in 4 hours! The race happen to fall on the same day as the SFLGTG which I was planning on attending. I haven't had the opportunity to attend a 24 hour race before, so I jumped on it. I think anyone in my position would have done the same thing. So we packed up tents, stove tops, bought the tickets, did some grocery shopping, and packed a change of clothes/necessities. We were on our way at 2 a.m. and arrived at 6 a.m. in Daytona.
It was an amazing experience! Camping out on the infield, falling a sleep to engines roaring, bon fires, drinking and meeting new people. We were some what worried about who we would be camping next to, but we ended up with some great neighbors around our age and to our surprise they were fans of State of Stance!
Unfortunately this was such a last minute decision that I had no time to acquire a media pass. These picture were all taken from general access areas, but we plan on going again next year so I will definitely plan ahead and have an all access pass.